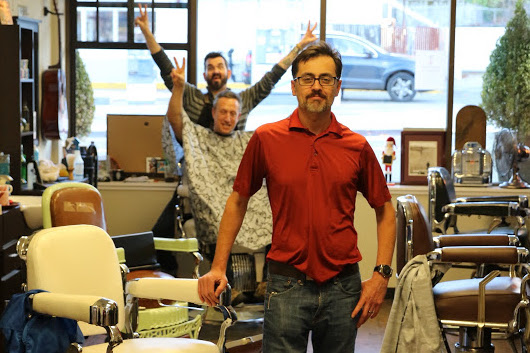 Sam Valero, owner of Menlo Park Barbershop, values excellence over expedience and close relationships over impersonal service. Menlo Park Barbershop offers a relaxing and warm ambience in a quaint space where Sam and his team deliver a fantastic experience, blending craft and tradition with a strong dose of humor.
Come visit and see for yourself!
Austin is a young up 'n' coming tonsorial artist focused on new-age styles and traditional ageless barber cuts. Whether it's a straight razor shave , fade, business cut, or beard sculpting, he's got you covered. He focuses on attention to detail and precision cutting. Always learning and expanding his knowledge of the trade. Experience the difference and be sure you check Austin out for your next cut!
Ignacio Soltero Jr, known to clients and friends as JR, left the corporate world (3) years ago to pursue his passion for the hair industry. Since then, he's enjoyed every opportunity to make clients feel relaxed on his chair while providing quality grooming services.
Customer service is JR's first priority and meeting people is one of his favorite aspects of the job. He keeps up to date with the latest styles and prides himself on delivering precision cuts. To JR, working as a Barber means using his artistic vision to sculpt and style while making people from all walks of life feel good about themselves. He's comfortable working with people of all ages- including young children. After all, he's a Dad, so he's no stranger to patience!
See what JR's clients are saying about his work on Google https://tinyurl.com/yxnefw7a and then book your appointment.